volume_off
volume_up
An Idyllic Setting
Welcome to Château de La Croix des Gardes
A dream setting immortalized in the cinema, a breathtaking view and Florentine-style architecture… The Château de la Croix des Gardes, located on the hill of the Croix des Gardes, in Cannes, is one of the mythical properties of the Côte d'Azur since the beginning of the last century. Today it is the only remaining castle that overlooks the bay of Cannes, from sunrise to sunset, offering a panoramic view of the Lérins Islands, the Mediterranean Sea and the snow-capped peaks. This Château in Cannes is a real haven of peace, where serenity, confidentiality and security rhyme with exclusivity.
4 Buildings & 16 Bedrooms
3,868 sq-meters
The Ballroom
160 standing people and 80 seated
The Château's Garden
Events up to 2000 party guests
1919
La Belle Epoque
The Château was built in 1919 for the Swiss industrialist Paul Girod.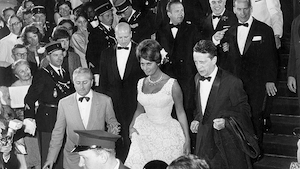 1946
First Cannes Festival
The 1st annual Cannes Film Festival was held from 20 September to 5 October 1946. Twenty-one countries presented their films.
1955
To Catch A Thief - Hitchcock
The Château de la Croix Des Gardes loaned its lavish sets and became a movie legend by hosting the filming of Hitchcock's To Catch a Thief, featuring iconic megastars Cary Grant and Princess Grace Kelly of Monaco.
1960
Villa Perrier
Gustave Leven founder of the Perrier empire acquires the Château and redesigned the property in the Palladian style architecture.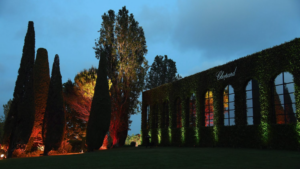 2018
Chopard Secret Night
Chopard host a stunning, unforgettable night at Château de la Croix des Gardes to close the annual Cannes Film Festival.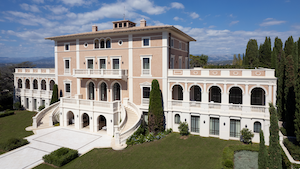 2022
A New Beginning
The Château de la Croix Des Gardes will open its doors again to private hire for the first time in 56 years. In the greatest secrecy, a dazzling scenario is being prepared to which only a happy few will be able to enjoy the newly renovated domain.
Activities
Everything your heart desires
Explore the mysteries of a mythical and fascinating place, where the Château de la Croix des Gardes and its gardens conceal many secret activities to discover.
01
Security & Staff
Security
At the Château your privacy is one of our main concerns, you will be able to feel safe and at ease with our State-of-the-Art Security System & Features, discretely located throughout the property.
02